HAN Korea BBQ Restaurant (
韩)
(N1.53038 E103.79330)
is located along Jalan Molek 2/2 of Taman Molek, Johor Bahru, which is just next to
Standard Chartered Bank
Taman Molek Branch. We had a bad experienced with the other outlet at
Jalan Molek 1/28
(behind OCBC Bank Taman Molek) which was smoky and stuffy on our visit months ago, so we decided to give a try in this outlet on one of the evening...
HAN Korea BBQ Restaurant, Taman Molek
Heard from friends that this outlet was took over from another restaurant not too long ago, and the design also different from the traditional Korea restaurant...no tatami.
It was quiet and not many customers on that evening, therefore it was nice and cooling...for me, the environment is better and spacious than the other outlet which I mentioned above...
The interior design of HAN Korea BBQ Restaurant
As usual, we ordered the one of the set in the menu for 2-3 person, the set include marinated
Pork (五花肉), chicken, beef
and a choice of
soy bean
or
kimchi soup
. We took the kimchi soup...
There were 15 different types of refillable side dishes (as appetizers) served on table before the main dishes serve where you experience in all Korean restaurant...
side dishes served by the restaurant
The friendly waiter preparing the BBQ at the next table while we enjoyed the side dishes...
Every table has the flexible vaccum to avoid smoky condition, common in all Korean restaurant. The waiter patiently barbeque the meats till perfection...under the smokeless environment. Great!
The raw beef...
The BBQ pork in process...
About less than 5 minutes, the BBQ pork served...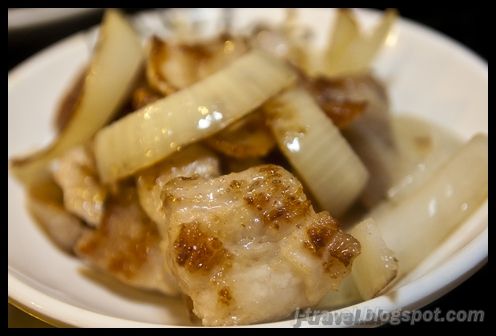 Korean BBQ pork with onion...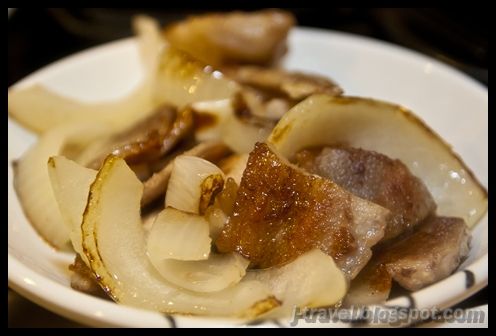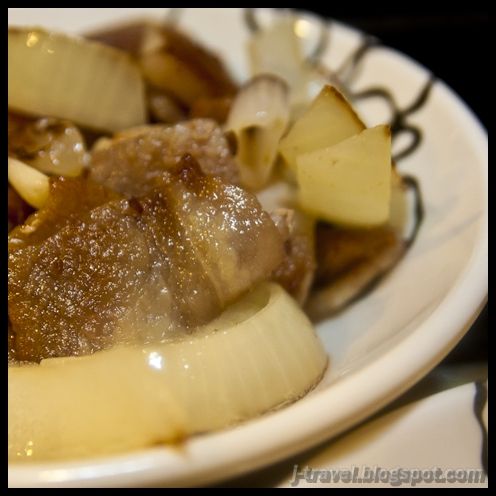 Follow by the BBQ beef...
BBQ Beef...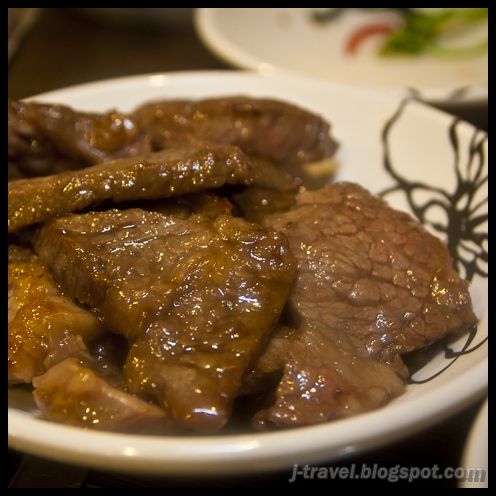 While we enjoyed the pork and beef, he (waiter) continue preparing the chicken immeditely...
BBQ chicken in process...
BBQ chicken with mushroom...
After all done, the Kimchi soup presented on our table...served with a steam egg...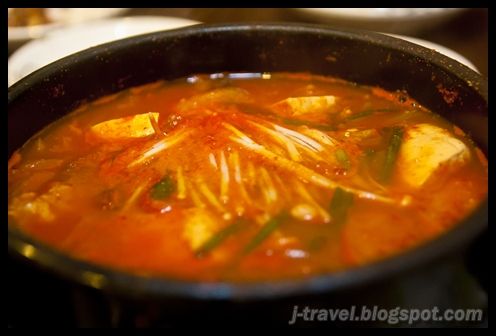 Korean Kimchi soup...
The pork, chicken and beef were tasteful!
All were well marinated and tender! The chewy moment of the pork was unforgotten.
There were vermicellis, korean rice cakes and others in the
Kimchi soup
, and it was slightly
'special'
compare with others, not very sour...we like the soup very much! I don't really like too sour and spicy Kimchi soup, that it kill the original taste of it (
personal preference
).
The texture of the steam eggs was nice, just melted in our mouth...
Delicious!
The Damage
:
RM118.00
for 2 adults and 1 kid included a jug of Korean tea.
The quantity of the foods enough to serve at least
3 adults
, so we were
overloaded
again! We will be back and of course with more friends...:)
韩 HAN Korea BBQ Restaurant
84, Jalan Molek 2/2,
Taman Molek, 81100 Johor Bahru.
Tel : +607-3539002
Location map of HAN Korea BBQ Restaurant at Taman Molek, Johor Bahru.